Viraaj Kantilal Lad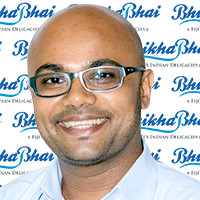 CEO/ Executive Director
Viraaj is the fourth generation to the family line. He was, like most members of his family members, very involved with the business at a young age leading into his university studies. He completed his Degree in Bachelor of Commerce majoring in Accounting and Financial Management with Information Systems.
He started his career as an accounting tutor at University of the South Pacific after which he joined an International Insurance Broking firm where his last role was of a Manager.
In April, 2004, he officially joined his family business as an Operations Manager. To further enhance his knowledge in business management, he undertook and completed a Masters of Business Administration (MBA) studies on a part time basis while working.
He now serves as the Chief Executive Officer (CEO) and manages the daily affairs of the Company based at the Head Office in Ba. He also serves as an Executive Director and Company Secretary for Bhikhabhai Group of Companies. Viraaj has contributed greatly to the growth of business by strengthening business' structure, processes and tools using modern management techniques.
Together with his cousin brother Jayesh, he significantly contributed to the opening of Bhikhabhai's first shops outside of Ba; Nadi in 2009, Suva in 2013, Lautoka in 2017, Suva CBD in 2021 and now soon to open in Labasa in late 2022 after over 90 years of business existence.
He oversees sales, marketing, business operations, finance, human resources, legal, risk management and assists the Board in preparing strategic & succession planning. Under his leadership since joining, total revenue earned and gross profit margin had doubled with number of employees growth by 3 folds.
He is married with 3 children, has a keen interest in yoga, meditation, community projects/events and enjoys time with his family.