Jayesh Lad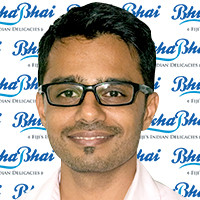 Executive Director
Jayesh is also the fourth generation, who grew up learning the traits of the business from ground up. He had pursued a Bachelor of Engineering degree in Computer Systems Engineering from the University of Auckland after which he worked as a Test Engineer, Electronics Engineer and late Embedded Software Developer for 7 years in New Zealand. Jayesh brought with him the intricate knowledge and expertise of engineering, project management, software programming, creative designing and research & development, when he joined the family business in September 2006.
Jayesh has ever since, overseen the successful implementation of Bikhabhai's Information Technology (IT) needs. From heading the execution of the company's first point of sale system, to the implementation and maintenance of IT infrastructure (server setup) for the Bhikhabhai Group and introduction of manufacturing automation machines at Bhikhabhai, he has paved the way for it all!
Jayesh has also been part of the management team that brought modern business practices using sustainable, transparent & accountable business model.
He now serves as the Executive Director and manages Bhikhabhai Groups' IT requirements, overseeing all aspects of manufacturing & quality control.
Together with his cousin brother Viraaj, he opened Bhikhabhai's first shops outside of Ba – in Nadi (2009), in Suva (2012) and in Lautoka (2017) after over 80 years of business existence.
He has been responsible for manufacturing processes of the company which included re-engineering that helped the company to expand its production output and capacity by 3 folds.
Jayesh is keenly passionate about Education and is much involved with the Ba Gujarat Education Society; he is a board member and IT Manager for A. D Patel College, Tagore Memorial Primary School and its pre-school. He is a former student of this institute and he believes, this is his way of giving back to the community.
He is married with two children and has keen interest in mountain biking, outdoor activities, traveling, learning new business and engineering concepts and photography.