Hemant Lad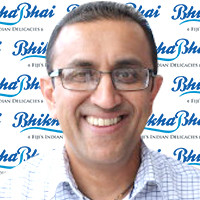 Board Chairman & Non-Executive Director
Hemant is the third generation to the family line. He was, like most members of the family, very involved with the business at a young age and served as an Operations Manager for Swits-Snax (Fiji) Pte Limited (part of Bhikhabhai Group) for 3 years before migrating to New Zealand in 1995.
He completed his Bachelor of Engineering (Mechanical and Production) in 1988 and in 1997 he completed his Diploma in Business studies both from Auckland University. He was an Operations Development Consultant at an international restaurant food chain, his job required him to travel extensively to explore more opportunities and open new outlets, develop new products and menu while setting up a franchise system.
In the year, 2004, he joined financial services industry as a Mike Pero Mortgages Franchise owner and attained a level 5 certification as Accredited Financial Advisor in New Zealand. Hemant currently consults in the food and dairy industry focusing on value-add products and ghost kitchen concepts.
Hemant served as the Board Chair and the Non-Executive Director of the Bhikhabhai Group of Companies from 2012 to 2017. In 2021, he was re-appointed in the same role.
Hemant has a wealth of knowledge and experience of over 35 years, having worked in New Zealand and abroad in the fields of operations management, financial planning and management, legal structures, strategic planning and risk management.
He is a member of the Institute of Directors in New Zealand that closely follows international financial markets (currency and commodity), banking (lending), property market, taxation systems, economic indicators and its impact on global liquidity.
He is also involved in a non-profit governance work and he currently serves as a Board Member/Vice Chairman at Allergy New Zealand.
Hemant volunteers at The Art of Living International Center and also as a helping hand at Auckland City Mission. He actively looks into volunteering opportunities that involve pro-bono consulting that allows him to offer his skills & expertise. He cares about economic empowerment, children, education, health well-being and civil rights.